"Hatago-ya"
story
We named our restaurant Hatago-ya after the place of travelers in the past, around 1600-1800, during the Edo Era. At that time, both Samurai, during unofficial travel, and general people often used this place for their lunches and suppers. They usually walked around 30 miles per day.
You can imagine how they felt and the degree of comfort they experienced after a long day of walking. They would have appreciated their stay and enjoyed local fresh dishes. We believe Hatago gave them their motivation for the next day. Make further ventures more pleasant by being in the company of others. By constructing the Hatagoya with wood, we wish to symbolize the warmth of friendships and the spirit of different people coming together in a gathering place where new connections can be made. Fresh seafood and vegetables are prepared in front of you. The smells of charcoal-grilled food will evoke fond memories, as served by our skilled chefs. Kick back and relax while enjoying a feast for all five senses. Come and feel rejuvenated.
Welcome to

"Hatago-ya"
Please visit us.
How many guests do we have?

Take your shoes off here and put them in the shoe box which can be locked. Don't forget your key with you. Please wait here.

Your waiter/waitress will come soon to take you to the table. Free Wi- Fi is available. Check our menu on our website. QR/URL tablets are available. Please ask us if you need them. English, Chinese, Korean language menus are available.

Please push the button when you need us.

All alcohol drinks will be served with appetizers.

All alcohol drinks will be served with appetizers. "Otoshi" is a kind of appetizer in Japanese cuisine with small portion when you order alcohols.

You can add any dishes and drinks anytime.

Let us know when you are leaving. Your check will be ready on your seats.
Please bring your bill to the check counter. Please pay at the cashier.
We take cash(JPY only), credit cards(VISA/Master/American Express), or China UnionPay card.

Please let us know if you have any food allergy.
Please let us know if you have somefoods you can't take for any reasons.

Soy sauce, Shichimi(Japanese spice), toothpick are on your table. Use them as you like.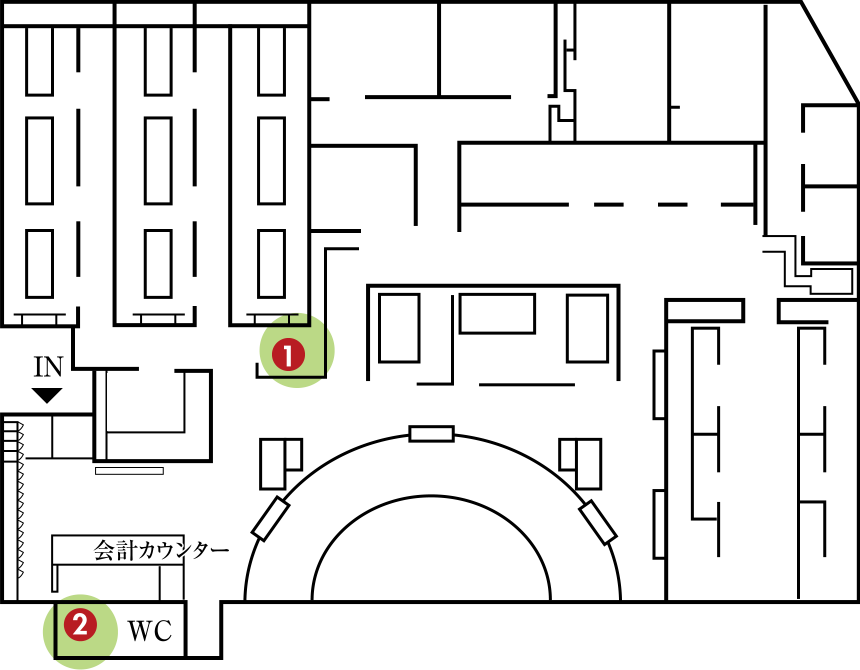 ❶

You can smoke on any seats.
There is a smoking room, too.

❷

Bathrooms are here. It's
behind the check counter.
We may make you wait when you visit us without booking.
We recommend you to book the seats beforehand at your hotel.
Taste our
amazing

local

specialties!

Zangi with Teriyaki sauce
In the 1960's, Zangi was born in downtown Kushiro. This is why Kushiro has been famous for Zangi for a half century. It is a mainstay of Kushiro "soul food" that continues to evolve. The vanguard style is Broiled Zangi, which is juicy and crispy, and is served hot. Why not try something you have never had before?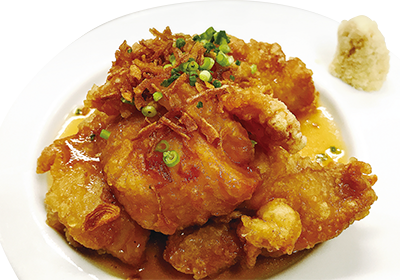 Charcoal grilled Tsubu(shellfish)
Using only Kushiro snails, the taste of the body and liver is enhanced by the introduction of broth in the cooking process. This creates a sweet taste with a crunchy texture. It takes only one bite of this skewered delicacy to discover how special it is. To fully savor snails, the broth should be ingested, as well.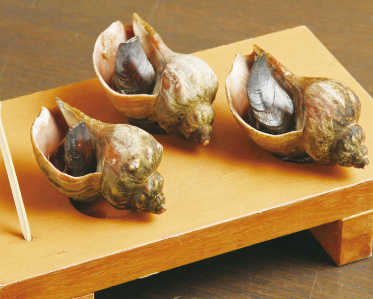 Robata dining style Hatago-ya
Address

ZIP085-0013
Hokkaido Kushiro-City Sakae-machi4-2
(Suehiro Kousan Building 2nd Floor)

TEL

0154-22-1717

FAX

0154-23-3715

Open

17:30〜23:00(L.O.22:30)

irregular holidays
Parking and driving services are available/180 seats/
JCB,VISA,MasterCard,DC,UC are welcome

Access

40min by car from Kushiro airport/
3min by car and 10min on foot from Kushiro Station